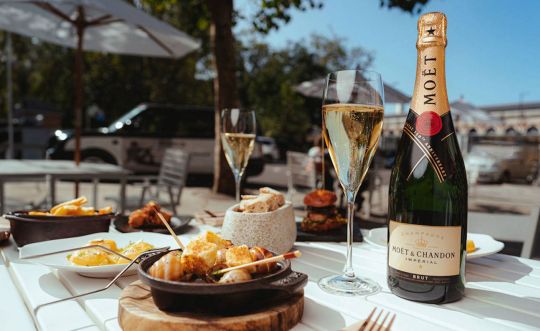 Moët Terrace at Le Bar
We're delighted to team up with Moët & Chandon for a special menu at Le Bar - available throughout the day on the outdoor terrace overlooking Smithfield Market.
In addition to a choice of two Champagne's by the glass - Brut Imperial (£19) and Rose Imperial (£24) - we are offering three signature cocktails, alongside our Mons cheese selections and a grignotage snacking menu from Michelin-starred chef Pascal Aussignac.
DRINKS
Moët & Chandon - Brut Imperial
Moët & Chandon - Rose Imperial
Champagne d'Automne
(Moët & Chandon - Brut Imperial, Calvados, Chambord & Elderflower)
French Stinger
(Hennessy Very Special Cognac, fresh squeezed Lemon & Orange, St Bart's Honey)
The Unusual Negroni
(Belvedere Pure Vodka, Campari & Lillet_
FOOD
Mixed nuts
Les frites du bar
Black olive tapenade
Goose rillettes
Foie gras terrine, jelly, brioche
Piggy treats
You can reserve a table anytime by clicking here and you can also walk by and grab a table if free. The menu is also offered indoors too whne the weather doesn't allow us to set up the terrace.
#MoetMoments