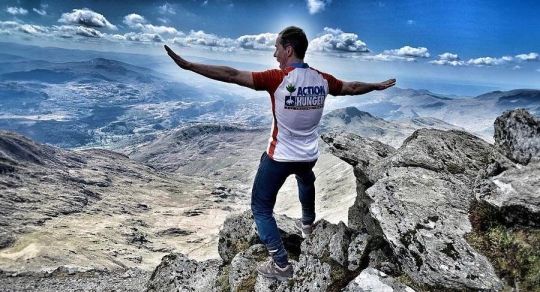 Peru Trek with Action Against Hunger
I'm taking on Action Against Hunger's Ambassador Challenge to help take vital steps
towards a world free from hunger.

In September 2022, I will be joining a team of food and hospitality professionals to take on a
challenging trek through the mountains of Peru.

As a city-dweller at heart, this will be new terrain for me! Whilst I'm used to crazy early
starts and long days on my feet, lacing my boots and pushing upwards through altitude is a
whole other ball game. But I'm determined to throw myself into it, take on the mental and
physical challenge, and crucially raise funds and awareness for Action Against Hunger's
lifesaving programmes.

The adventure started in April with a Monday gallop up and down Snowdon,
one very friendly seagull, and a couple of exceptionally burning legs. Needless to say, I slept
the entire way home! Step 1 of a heavy 6-month training programme – stay tuned for
updates and please consider donating to this wonderful vital cause

THE AIM: Raise over £200,000 for Action Against Hunger to help create a world free from
hunger.

THE CHALLENGE: A gruelling 10-day journey through the Sacred Valley of the Incas to
Machu Picchu.

THE CAUSE: Action Against Hunger saves the lives of malnourished children and ensures
that families can access clean water, food, training, and healthcare. For close to 40 years,
they have led the global fight against hunger across nearly 50 countries, assisting more than
20 million people in 2019 alone and working hard to ensure that all donations have a
tangible impact.
Find out more here: https://www.actionagainsthunger.org.uk/
YOUR DONATION: 91p in every £1 you donate goes directly to Action Against Hunger's
lifesaving programmes and services. Every single penny counts, however little or large the
contribution.
Thank you so much for your support.
Pascal Aussignac
justgiving.com/pascal-aussignac

#PeruTrek2022 #trek #MachuPicchu